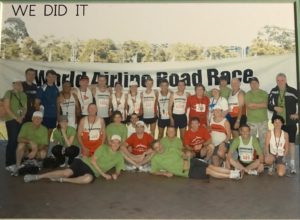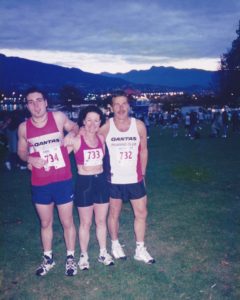 by Neil Campbell
My Warr journey with Qantas Airways started by accident in Dublin in 1993.  I was there for work and could only get a hotel half way between the airport and the Race start at St Stephens Green. It was early in the morning with a pea soup fog with no buses or taxis, so we walked 6km to the race start. We only knew we were in the right spot when we heard the bagpipes. After that it became a family event, Anne and I hooked up in 1972 after we were both offloaded for 5 days in HKG by PanAm. By 1997 our 2 children were old enough for us all go to Kuala Lumpur, and the journey has continued from there. We now have an extended WARR family and it nice to know wherever you are in the world there is always someone there to help you or share a drink, such as
• When Frank (KLM) and family came for a BBQ in Sydney, or
• Checking in 90kg of Excess baggage for trophies in Hong Kong on our way to Qingdao and having Jeff Wicks (Dragon Air) pop up and save the day.
• Hosting Sam (Southwest) for night in HKG when she was offloaded and
• Seeing Ghana (SQ) as we crossed the line at the end of the HKG half marathon.
In 2005 a few of the Qantas Running Club were having an after-fun run BBQ when Kevin suggested we should Host WARR in Sydney (previously done in 1987). Well, 2 years after that in 2007 we did host WARR in Sydney and it was a lot of fun. We felt we were giving back some of the enjoyment we had received all over the world. It is hard to pick some of our favourite Moments,
• A security guy running all of the 10km with Anne in Hangzhou,
• Coming in ahead of our son Adam in Vancouver in 1999 in a Warr PB
• Going into a pub after the race in Dublin and singing all the afternoon, while enjoying a few Guinness.
• Winning the odd T shirt competition
• Seeing the happy faces on the Qantas WARR committee at the end of WARR 2007