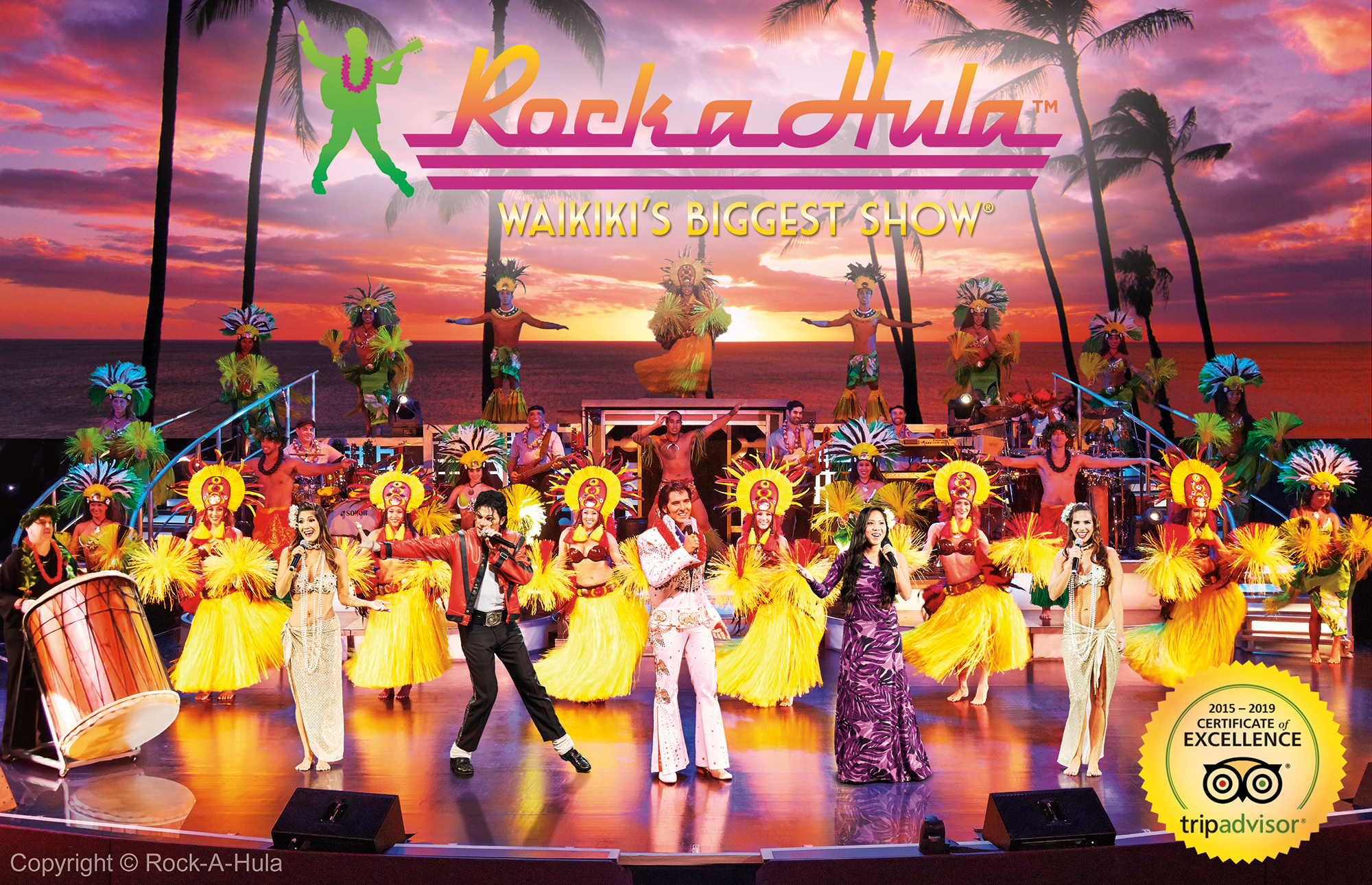 Join your fellow WARR members for a taste of local cuisine at Rock-A-Hula!   
It is recommended you book your group/team all together in one booking (up to 10 people per table) to ensure you are sitting together!
Get tickets to the award-winning Rock-A-Hula - the hottest show in Waikiki! Be whisked away on a "Hawaiian Journey" from the 1920s to today through powerful performances by our performing artists, hula, Tahitian, fire knife dancing and amazing musicians, all in the 750-seat Royal Hawaiian Centre.
Choose from 3 ticket packages, from the show only to gourmet dinner and show experiences.
All awards will be presented after the race. There will not be a WARR specific component to the Dinner and Show, however we expect to book it out.
Dinner and Show is a 15-minute walk from Host Hotel or take bus for $2.50. UBER is a 10-minute drive.
Attire: Casual
Location: Royal Hawaiian Center, Bldg B, 4th Floor.
Cancellation Policy: A full refund is provided if the activity is canceled more than 24 hours prior to the activity time. Cancellations made less than 24 hours in advance and no shows will be charged the full amount.
Price, contents, and the line-up of artists are subject to change. For more information, call (808) 629-7458 or email info@rockahulahawaii.com.
5:45 - Luau Welcome
---
6:00 - 7:30 - Buffet dinner with live Hawaiian music and hula
---
7:30 - Move to theater
---
7:40 - 8:50 -Rock-A-Hula show
RESERVATIONS ARE TO BE MADE DIRECTLY ON THE Rock-A-Luau SHOW WEBSITE AND A 10% DISCOUNT WILL BE APPLIED WHEN YOU ENTER
PROMO CODE "WARR22"
Be sure to select "October 16th"
WARRIOR'S have access to book any of the packages that best meet your needs.  The discount is applied at the end of booking process, after you enter the promo code. 
For reference, below are our packages with Retail rates (tax included) for Adult and Child.
PRICES WILL INCREASE ON JULY 31ST!
Luau Buffet & Show (Capacity 260 seats)
Adult $113.00
Child $68.00
Luau Buffet ONLY (No show included) (Capacity 100+seats)
Adult $79.00
Child $55.00
Rockin' Show (show only, no dinner) (Capacity 200 seats)
Adult $69.00
Child $41.00
Luau Buffet & Show: https://www.rockahulahawaii.com/luau-buffet-show-booking/
VIP Show:  https://www.rockahulahawaii.com/vip-luau-buffet-show-booking/
The Promo code is:  WARR22
The 10% discount  applicable for both Adult and Child.